Many people, at least among those over 35, have noticed that the Obama: "Progress", 'Hope' & 'Change' posters, by 'street artist' Shepard Fairey, strongly resemble the artwork of communist revolutionary propaganda. Democrat-types dismiss the observation, saying there is no connection, that the Obama art is just more of Fairey's usual work.
Are they that superficial, or are they just lying? The resemblance is no accident of graphic options, or of RGB-'Posterizing' in Photoshop. It derives directly from the artistic and philosophical leanings Fairey has adopted.
From Wikipedia (i.e. to be taken with-a-grain-of-salt):
Shepard Fairey (née 1970) began as a skate-boarding street artist, with a bent to rebel against, or at least expose, the Big Powers around us that we blindly accept, take for granted, and obey.  (The name of his website is "ObeyGiant ".)  He began his career approach by posting this graffiti image of André the Giant, with or without the "Obey" epigram, everywhere he could: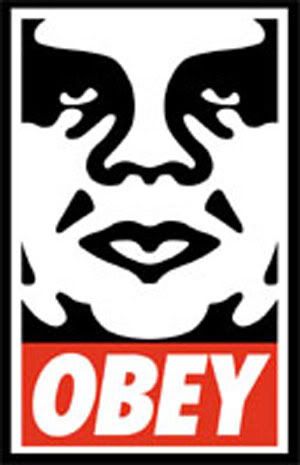 (André was 7'4", 540 lbs; some may recall his hilarious role in The Princess Bride)
Artistic Leanings
In The Washington Post, William Booth describes Fairey's mindset for developing  the Obama Hope poster  ("Obama's On-The-Wall Endorsement", 2009/o5/18):
… he wanted to make posters that the cool cats would want. The 2008 Democratic primary season equivalent of the Che poster (with all that implies). More Mao, more right now. The kind of poster that might make its way onto dorm room walls of fanboys. The kind of poster that might sell on eBay, as a signed Fairey Obama recently did, for $5,900. He wanted his posters to go viral.  (my emphasis)
Note the implicit wish for the 'good old [beatnik & hippie] days' when socialism was "cool".  (Just throw in some Democrat Blue:)
Booth, rightly, ties Fairey's works to the Russian Constructivists of 1919:
Fairey's artwork follows the style of his predecessors. His Obama posters (and lots of his commercial and fine art work) are reworkings of the techniques of revolutionary propagandists — the bright colors, bold lettering, geometric simplicity, heroic poses — the "art with a purpose" created by constructivists in the early Soviet Union, like Alexander Rodchenko and the Stenberg brothers,
Exactly —Fairey'a art is nearly identical in style to the artwork of early communists, whether in Russia, China, S.W. Asia or Central & South America.   Why?
Philosophic Leanings
Fairey graduated from Rhode Island School of Design with a Bachelor of Fine Arts in Illustration.  He  links his work to Heidegger's views of Phenomenology (originated by Hegel,  and expanded by Husserl) .
Phenomenology was believed to be a pursuit of objectivity, but it is really a variation of Kantianism masked by different language.  For example, in Kant's language, categories of consciousness limit how we experience the phenomena of our senses.  In Phenomenological language, our experience of an object is "constituted" in consciousness in different ways, through perception,  memory, retention (of a raw percept), protention (expectation of a new perception), and signification (symbolic or semiotic values).  "Knowledge of essences would only be possible by "bracketing" all assumptions about the existence of an external world and the inessential (subjective) aspects of how the object is concretely given to us." This latter is just an echo of Kant's division of all Existence  into noumena and phenomena … the former we can only assume (take on Faith), and the latter has only a Platonic resemblance to Reality.
The Phenomenology Wiki sums it up:
"Husserl's method … entails the suspension of judgment while relying on the intuitive grasp of knowledge, free of presuppositions and intellectualizing."
To Shepard Fairey's slim credit, if I read him correctly, he prefers Heidegger's view of Phenomenology.  Heidegger held a vaguely more Primacy of Existence view.   He argued that a person's Existence (Being) and Consciousness were inseparable, as "Dasein" —that is, there is an undeniable Existence of which our individual Consciousness is a part.  Unfortunately, that view does nothing to close the Kantian gulf between consciousness and its ability to acquire a valid conceptual grasp of Existence, and is no less linguistically convoluted.   Phenomenology, with or without Heidegger's help, was inescapably doomed to Primacy of Consciousness subjectivism.
No wonder, therefore, the subtitle for an article Fairey has posted on his site reads:
"Shepard Fairey On Graffiti, Breaking the Law, and the Meaningless of Meaning." (my emphasis)
Heidegger, somewhat logically, had significant intellectual and practical ties with the Nazis, whom he publicly endorsed.  He was, a full blown collectivist —hardly the kind of ideology Americans need!
Popular art always follows cultural mindsets, it does not lead them.  So it is that Fairey's art follows.  There are good reasons why Constructivist 'art' appeals to collectivist 'revolutionaries' and propagandists. 
The communist/leftist ideology views individual men as rather insignificant creatures with little capacity 'to make their own mark' in the World. It is a phenomenal world that is only comprehensible through collective understanding.  The only 'real' asset common to men is their capacity for labour.  They must group together to take on the greater, largely inexplicable, forces they believe confront them.  They must altruistically place their hopes in, and sacrifice themselves to, the moral glory of the greater whole, of the Collective, and at the same time hope that the Collective will save them.
(Of course they will also seek to have —or to align themselves with those who have— the power to use Collectivism to rule the rest.  What else is there?  c.f. ObeyGiant)
With the above cultural mindset, art reduces the insignificant individual man to stylized symbols.   All that matters is his position in the Collective.  Thus Socialist propaganda 'art' presents men, even leaders,  in unrealistic 'high contrast' lines, in powerful forward looking poses that presuppose Collective success. Characters & objects are variously surrounded by celestial (holy?) rays or halos. Often, sharp distortions of scale suggest a majesty of ability &/or character (e.g., a personality cult).  The images make extensive use of stark, politically meaningful colors, and usually incorporate a related, inspiring epigram or motto.
Fairey's work, and the Obama campaigners' eager acceptance of it, is no accident.
Below is a 21 image overview of propaganda 'art'.  They demonstrate how the Constructivist art characteristics recur in otherwise wildly different cultures: Oriental, Slavic, Western Spanish etc. as socialist collectivism acquires political power.  The images also show that not all propaganda is Constructivist*.
Perhaps frighteningly, three images are less than a decade old, and two of those are by Shepard Fairey.
Three offer us some amusement, as knockoffs.
The last five were made in America, but only four are American…
To me, those last four images project respect & admiration for a man —for his life, for his ability, & for his individual sovereignty!  That is what Collectivists cannot grasp, or are afraid to face, about themselves (and is something power-lusters must never encourage).  That is what Americans fought and died for in WW2, and must now peacefully fight for within their own nation!
(*Yes, some American war propaganda probably was Constructivist art.  I am not suggesting American culture was immune it. )
_______________________________
Do you recognize each image? For a brief description, hold down the left mouse-button while dragging the pointer across the white space above each image.  Images are hyperlinked to their source.
Mao:




A return to trueMaoism?:




The Sandinistas:




Ho Chi Min regards Lenin:




Marx knockoff?:




Chavez:




Shining Path:



Presidente Gonzalo

(Shining Path founder)

Less crude Constructivism
Just as crude

Fairey (Stali

esque Muslim

?

)

:

Imposter:

Lenin:




Stalin (1939):



Kim Il  Jong:


Charles Darwin:



#1

#2

#3

#4

#5

For those who are interested, RightIsBest also has (quite independently) compiled a much larger listing showing poster and image parallels between Obama and other socialist leaders.